Pete and Takutai have an intense connection with the Marlborough Sounds that has been nurtured through a lifetime of family stories, both Maori and Pakeha (European) and by living each day on its shore. Takutai, whose name in Maori means one with an afinity for the sea, and Pete, together on their historic boat Tutanekai, will share the mystery, history and beauty of the region with you. Follow in Captain Cook's path, visit an island bird sanctuary, meet the characters who live (survive!) in this remote region and possibly catch a fish for dinner. An experience that steps back in time.





TRIP HIGHLIGHTS
Full day of cruising the Marlborough Sounds
Enjoy an island visit to a bird sanctuary
Learn the Maori myths and legends of the region
Hear stories of the region's dramatic past including Captain Cook's extended stay
Relax, slow down and indulge in the tranquility and beauty of the Sound
Enjoy the unique historic boat
Gather kai (food in Maori). This may be fishing or perhaps gathering mussels
Enjoy a picnic lunch on the boat or at a secluded bay
Possibility of dolphin sightings
Rejuvenate your soul!
Pricing and Inclusions
$1,495.00 NZD based on two passengers
Includes full day of cruising with your two private locals, island visit to a bird sanctuary and an on-board Kiwi picnic lunch


ACCOMMODATION OPTIONS (not included in tour price)

Timara Lodge - Luxury option
Timara Lodge is set amongst 600 acres of land, including 25 acres of one of New Zealand's most beautiful English style gardens and a five-acre, man-made lake. Adjoining the gardens is the 350-acre Spy Valley vineyard and winery. All rooms have picturesque views of either the gardens, lake, or the distant magical mountains. Choose from four charming rooms with king beds. Tarrif includes pre-dinner drinks, canapes, dinner & breakfast.
Special Local and Landscapes Extra: Craig Potton pictorial book "Vineyards of Marlborough"
McCormick House – Deluxe option
Within 1.5 km of Picton restaurants, cafés and ferries, McCormick House luxury bed and breakfast accommodation is ideally situated to enjoy Pete & Takutai's trip. McCormick House provides a subtle, tasteful balance of historic charm with every modern convenience provided. Guests have the choice of three spacious ensuited upstairs bedrooms. Breakfast is included in the tariff.
Special Local and Landscapes Extra: Hand made chocolates & a bottle of champagne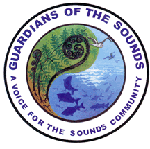 When you book our Locals and Landscapes Guide Peg, a Donation of
$10.00 Per Person will be donated to The Guardians of the Sounds.
Encounters in their Conservation Effort.

Click here to see how your Donation will help