Where passion and knowledge collide; that's Brian. He is passionate about sharing and protecting New Zealand's wildlife and he is knowledgeable on a broad expanse of subjects. On an experience with Brian you get the rare opportunity to visit a private farm where there is a Yellow-Eyed penguin colony, see the New Zealand fur seals, sea lions and endless birds including the Royal albatross. Visit the remote and wild Catlins then visit Stewart Island. There you have the ultimate opportunity to see our native bird, the Kiwi in the wild. With Brian you just don't see wildlife, you will get to feel and understand them.





TRIP HIGHLIGHTS

One Day Option:
Pick up from your Dunedin accommodation by Brian
Travel along the Otago Peninsula road which hugs the coastline and offers stunning vistas
Learn how tourism and conservation are working together to ensure the well being of the unique wildlife on the peninsula
A unique opportunity to view the world's largest sea bird, the Royal albatross, on their nesting area at Taiaroa Head. This is the world's only mainland albatross colony.
Visit a private conservation area to see Hooker sea lions and a breeding colony of New Zealand fur seals
See the world's rarest penguins, the Yellow penguin, from strategically placed observation hides. There are only approximately 5,000 left in the world
Enjoy a gourmet picnic lunch at a specially chosen spot – hopefully viewing more wildlife!
Four Day Option:
Day One:
Day Two:
Pick up from your Dunedin accommodation.
A full day of exploring the Catlins Coastline
See the lighthouse at Nugget Point
Enjoy numerous, mild bush walks
See the fossilized forest, tide permitting
There is the opportunity to watch the world's smallest and rarest dolphins; Hector dolphins playing at Curio Bay
Cross the ferry to Stewart Island
Stay at your chosen Stewart Island accommodation for two nights
Day Three:
Wake up in the remote and tranquil Stewart Island.
A morning water taxi to Ulva Island, one of the country's most advanced bird sanctuaries
Full day of mild hiking and bird viewing with the opportunity to view some of the seventy species of birds that live on the predator free island
One of the trip highlights; an evening walk to hear and possibly see Kiwi in the wild
Day Four:
Morning exploration of Stewart Island before ferrying back to Bluff where you can be transferred to Invercargill and either fly to your next destination or pick up a rental car to continue the journey on a self-drive basis to Te Anau, Queenstown or other destination. There is also the option to drive back to Dunedin with Brian.
Pricing and Inclusions
Pricing for one day option
$835.00 NZD based on two passengers
Includes full day of private guiding, Albatross Centre admission, gourmet picnic lunch
Up to 6 additional passengers at $75.00 NZD per person

Pricing for four day option
$3,125.00 NZD based on two passengers
Includes three days guiding, Albatross Centre admission, gourmet picnic lunch on day one, Stewart Island ferry, Ulva Island experience and Kiwi spotting safari
Any additional passengers; price on request


ACCOMMODATION OPTIONS IN DUNEDIN (not included in tour price)

Corstorphine House - Luxury Option
This privately owned boutique hotel was originally built in 1863 as one of the finest homes in the country. Meticulously renovated, it now offers five star accommodations fit to host the Prince of England! Each themed room offers an elegant and unique experience. The on-site restaurant, set in the historic glass house, offers meals that are highlighted by the produce grown from the on-site organic garden. Tariff includes breakfast.
Fletcher Lodge ? Deluxe Option
Located just a few minutes walk from the hub of the city, Fletcher Lodge offers luxury accommodation in an atmosphere of restrained elegance while providing the ultimate in comfort and modern facilities. The lodge offers six beautifully appointed rooms, each reflecting an aspect of
Dunedin?s wealth and heritage. Comfortable guest lounge and lovely gardens offer areas of reprise at the end of a day. Tariff includes breakfast.
ACCOMMODATION OPTIONS ON STEWART ISLAND (not included in tour price)
Stewart Island Lodge - Luxury Option
On such a small island, it is amazing that a lodge of such an excellent standard is available. Known for its views and lovely rooms, this island retreat is nestled in the natural beauty of a bush setting in Halfmoon Bay. Stewart Island Lodge has unsurpassed views of the bay and surrounding hills. The large garden is host to many native birds viewed right from our terrace. Tariff includes breakfast and dinner.
Greenvale B&B - Deluxe Option
Greenvale B&B is situated less than five minutes walk to the centre of Oban Township. Greenvale provides luxurious accommodation with two individually designed and decorated bedrooms. The property is only 50 metres from the sea providing magnificent views of Foveaux Strait. The two rooms are new, freshly decorated and offer king beds with well appointed ensuites. Tariff includes breakfast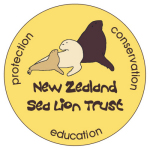 When you book our Locals and Landscapes Guide Brian, a Donation
of $10.00 Per Person will be donated to The Sealion Trust. Click the
following link to see how your donation is helping New Zealand
Encounters Conservation effort. www.sealiontrust.org.nz

Click here to see how your Donation will help